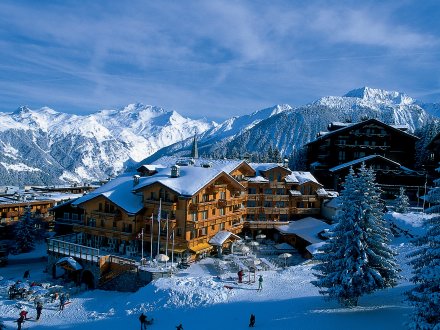 Courchevel, France
Located in the French Alps, Courchevel is nominated to be the most expensive ski resort in

Europe

. It's no wonder why people as George Clooney, Naomi Campbell,

Robbie Williams, Roman Abramovich

,

the Beckham's,Prince William & Katle Middleton

,

the King of Maroc

and many others. As you can guess there are many luxury shops, such as Louis Vuitton, Prada, Valentino, Chanel etc. Also some of the restaurants have been awarded Michelin stars, hotels with five stars, in 2011

France

even introduced

a very prestigious 6th star ranking for hotels, named "palaces".

Anyway,

you can stay in some of the lower villages and your stay will

be considerably cheaper but the slopes are still great

.
Courchevel, France
Courchevel, France
Courchevel is the

the most eastern resort of the

Three

Valleys.

In fact that's not only one resort. Courchevel incorporates 4 satellite villages /

Courchevel Le Praz, Courchevel 1550, Courchevel 1650 and Courchevel 1850

/. The names come from their altitude. The city of Courchevel has been built as a consequence of the resort. Ski instructors and facilities correspond to the requirements of the tourists and the size of the ski resort.

Here, all the ski pistes are connected and that's what makes them unique with their size. Courchevel's ski pistes are also one of the most dangerous and difficult.

It's

lift system

is excellent and there are never queues.

Courchevel's airport runway is one of the shortest, that's why it's recently used mainly for small planes and helicopters.
Even though we said that your holiday can be kind of cheap, there are lots of possibilities for a really luxury one. After all Courchevel is one of the most expensive places. That's why there are many wonderful offers in case you prefer an ultimate luxury for your ski getaway. We already mentioned the restaurants awarded Michelin Stars, the Six Stars Hotels.....I think you understand......Yet...we don't have to forget the landscapes and views, which are not just unforgattable and breathtaking, they are beyond any description!!!
Meribel Luxury Villa

, Courchevel, France
Chalet Grande Roche, Couchevel, France
For more places where you can spend some time enjoyng skiing and others you can see here.