Europe is a wonderful destination through all the seasons but in winter there are lots of interesting places to visit. My favourite are the Christmas Markets and everything related to Christmas.
1. Switzerland:
Mountains wonderfully covered with snow..Breathtaking views...Just imagine the start of the New Year in a place like this...
Switzerland, Europe
2. Berlin, Germany: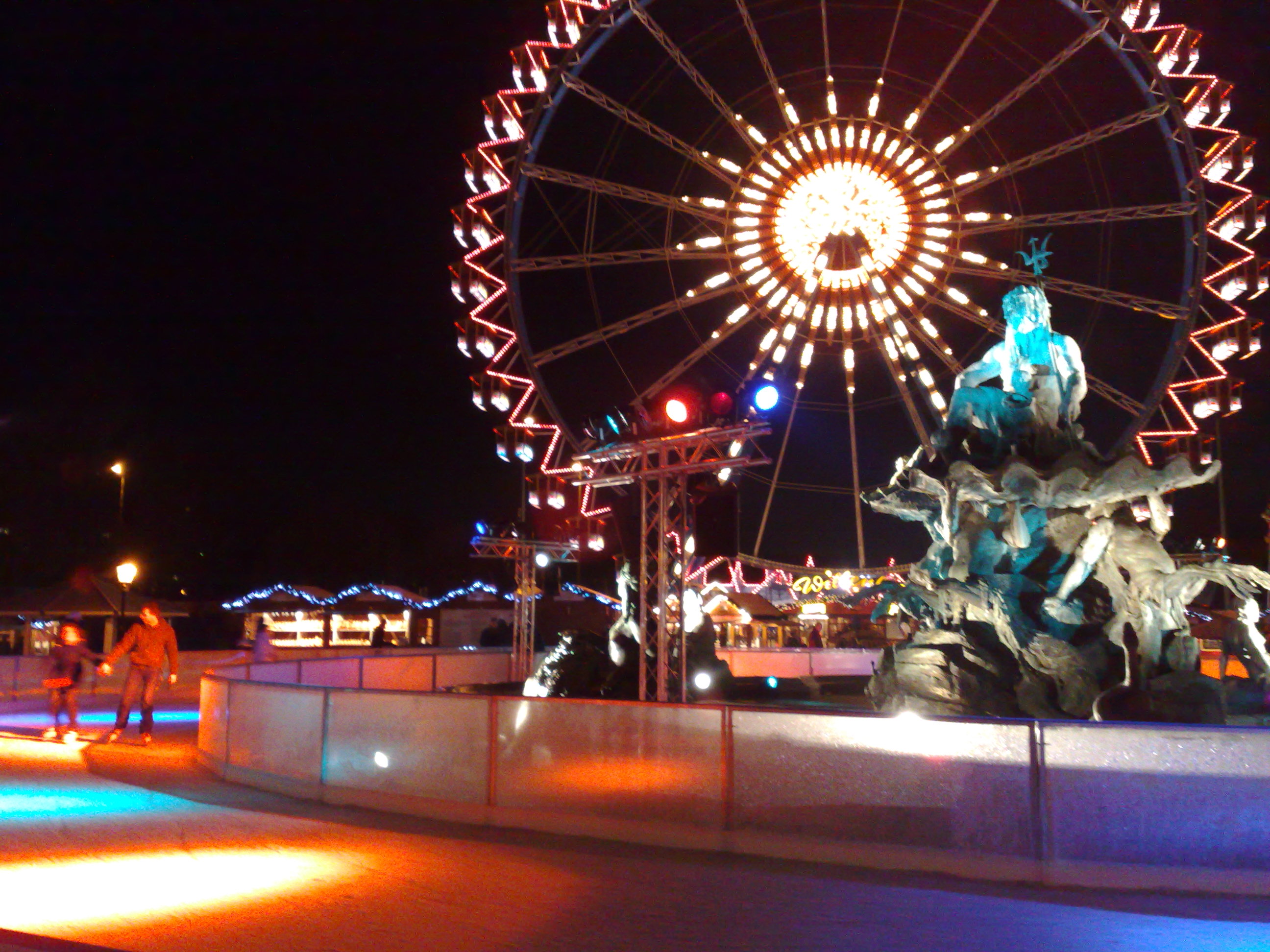 Ice rink, Berlin's City Hall, Germany
Besides the wonderful Christmas Markets, there is a lot more.....

Berlin's

important public square Potsdamer Platz is turned into a winter wonderland this time of year. Visitors can choose from a 40m long ice rink, an Alpine ski hut, a 70m ski slope and a wide range of competitions to enter. Another highlight is having the chance to slide down a long slope on a huge rubber tyre.Opens from early 29th October 2011 to 1st January 2012

.
3. Sweden:
This is an extremely cool place to visit if you're willing to travel. Northern Light is a life time experience.You won't ever forget it. Also you should definitely visit the famous Ice Hotel.
Northern Lights, Sweden
Sweden, Europe
The nature of Sweden, Europe
4.

Reykjavik, Iceland:
Reykjavik is a great place to celebrate the New Year's Eve. This city is famous for its nightlife. There after the amazing fireworks held in midnight, everybody heads downtown to party. Most of the clubs and bars offer live music until
at least 5am the next day.
5. Chamonix:
This is a place which is most preferred by adventure lovers. It offers many sports and activities specially in winter.Most common are skiing, snowboarding and all other snow sports. The beauty of Chamonix makes it a wonderful resort. Cable-car ride is another interesting feature of this place.
Chamonix - a wonderful ski resort, Europe
6.Prague:
The beauty of this city is really divine. Here you will find many beautiful castles, medieval bridges and beautiful forests. All this is even more beautifil when covered with snow. It's like a fairyland. So for all lovers of the great places and feelings - visit this lovely town.
Christmas Market, Prague, Old Square
Charles Bridge, Prague, Europe
7. Eiffel Tower, Paris:
Eiffel Tower, Paris
Enjoy the beautiful views of

Paris

, after that

skate on this unique small but perfectly formed ice rink - enough to make your winter holiday an unforgettable experience. The ice skating rink is located on the first floor observation deck of the famous French landmark – lodged between two of the tower's massive steel legs. Up to 80 skaters at a time can enjoy this unusual skating experience but vertigo sufferers might want to give this one a miss!

Opens from December 2011 to February 2012

.
8. Best all rounder – Vienna Christmas Market:
Viennese Christmas fair
The "Christkindlmärkte" in Vienna, Austria is a very popular seven hundred year old Christmas market. Here you'll find a traditional event with plenty of nostalgia, fun and romance. As well as the usual concerts and nativity displays there is also a crowd-pleasing live advent calendar display and a children's Christmas workshop located in the City Hall. Wander through Vienna's atmospheric streets and town square which are filled with the aromas of candied fruits, cotton candy, Christmas punch and roasted chestnuts – surely the perfect way to get you in the Christmas mood?
Vienna Christmas Market:
19th November – 26th December 2011
9. Norway:
Norway is another place where you can have a lot of fun in winters.For adventure lovers there are many activities like snowshoeing, take a ride on a husky dog sled, ice fishing and an exciting ride on a reindeer.And for nature lovers this place has beautiful sights like snow covered mountain plateaus, wilderness and sea.So visit this place to have long lasting fun.
Norway, Europe
10. Edinburgh, Scotland:
Edinburgh, Christmas market
The annual Hogamany in Edinburgh is a legendary event and is often cited as the world's best New Year's Eve party. Join merry Scots and 100,000 other revellers and expect four days of fun and free events. The organisers ensure everyone's tastes are catered for and festivities include a traditional torchlit procession, street performers, ceilidh bands as well as the famous gigantic street party. Guests are also treated to a large and impressive firework display at midnight – just make sure you bring your warmest clothes.