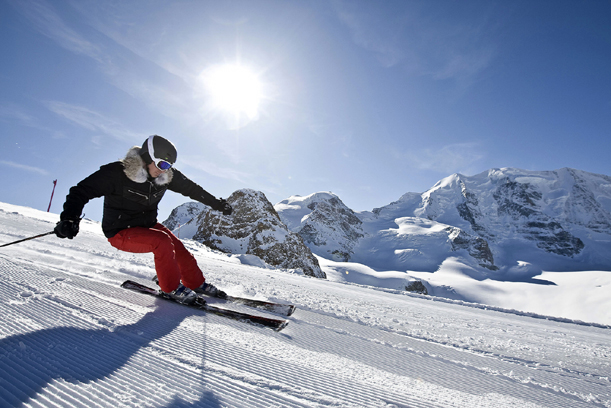 St.Moritz, Switzerland, ski pistes

T

his resort town is called the "luxury resort of the Swiss Alps". Saint Moritz is one of the most famous and prestigious ski resorts in world, especially after having hosted the 1928 Winter Olimpic Games and also the 1948 Winter Olimpic Games./ Here we have to note that only 3 cities in whole world have hosted Winter Olmpic Games more than once/. Nowadays its name is associated with finesse and elegance. Many celebrities have properties here. We can come across its name in a great number of novels as well as the famous series of James Bond.
St.Moritz, Switzerland, Badrutt's Palace-5 Star Luxury Hotel
l
St.Moritz, piste map, Switzerland
St.Moritz is situated in the
Engadine
valley. It is a municipality in the Swiss canton of Graubunden. A few kilomemetres south of the town is situated the highest summit in the
Eastern Alps-
the Piz Bernina.
St. Moritz
is influenced with both cultures- the german speaking majority and those who are using the roman languages- mainly Italians. In the beginning the besort becomes famous due to its mineral healing springs, which have been known for more than 3 thousand years. This place is perfect for those who want to spend their time close to nature, among a well balanced combination of mild snow cover, nice weather and fine altitude. A great advantage is the possibility to practice a lot of sports there, such as: skiing, snowboarding, hiking, bobsleigh, sledging, horse races, polo, cricket, ski jumping, sliding on a frozen lake and others.
St. Moritz, Switzerland, Badrutt's Palace
St.Moritz, ski slopes, Switzerland
St.Moritz, Switzerland
For more places where you can spend your holiday enjoying skiing and others you can see here.